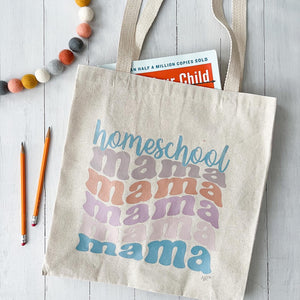 I'm just giddy about this cute bag with our new "homeschool mama" design!  A Collaboration design with my friend Mindy, this durable cotton bag is spacious and cute!

Library books?!  Homeschooling on the go?! Just a cute bag for mom?!  This fantastic cotton bag is custom screen printed and has a pocket!  It's the perfect grab and go bag!  I hope you enjoy this fun accessory for yourself or gift it to the homeschool mamas in your life!

 Once you receive your bag I would love to see you rocking it on Instagram! Please tag @herheartsco, @herheartshomeschool, and use hashtag #herheartsco!